Berkeley Marine Back to Baseline Status!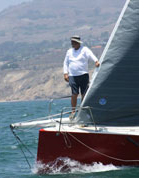 Berkeley Marine Center lies within one of the major epicenters of environmental activism. Imagine trying to operate a heavy marine repair yard that is just down the same street of UC Berkeley? And that the space adjoining your boat repair yard is a state marine park with spectacular views of San Francisco Bay and of the City itself.
Cree is the active owner of this boatyard and well-known in his expertise in competitive sailing. However, his advanced treatment process of his industrial stormwater management was not getting him into meeting the necessary stormwater benchmarks. So his company got sued by a 3rd party and within their discussions, the recommendation was to basically to throw away his present treatment process and 'invest' over a $100K in a new treatment system. Then Cree came across the Gullywasher method.
We took a look at what processes were currently available at his site and determined with an honest assessment of what we could and could not use. Frankly, the vast majority of Cree's existing equipment, including the clarification and sand filtration, was perfectly adequate for his stormwater management. If anything, these existing processes were a bit too excessive.
It was the diatomaceous earth filter, along with the activated carbon filter that did not make any sense. Our proposal was to simply take those two units out and place in our Gullywasher BioUP Biofilter in as an industrial stormwater polisher. A total of less than $10,000 installed.
We did have to make a couple of modifications afterwards to the Gullywasher biofilter. Making it more bullet-proof and more process efficient – All without charging BMC a dime!

This boatyard has been lab certified and approved to return back to a baseline status. He has shown four (4) consecutive lab samples showing that his stormwater is well underneath the benchmarks for compliance. Baseline status for this and the next industrial stormwater permit cycle! The Gullywasher Method.
Now after almost 5 years, we are ready to rebed Berkeley Marine BioUp talk about success !