At Gullywasher, we are not just playing the game, we're changing it! We have crafted a suite of biochar filter berms that are perfect for those heavy-duty companies that need to keep the environment clean without slowing down the pace of production.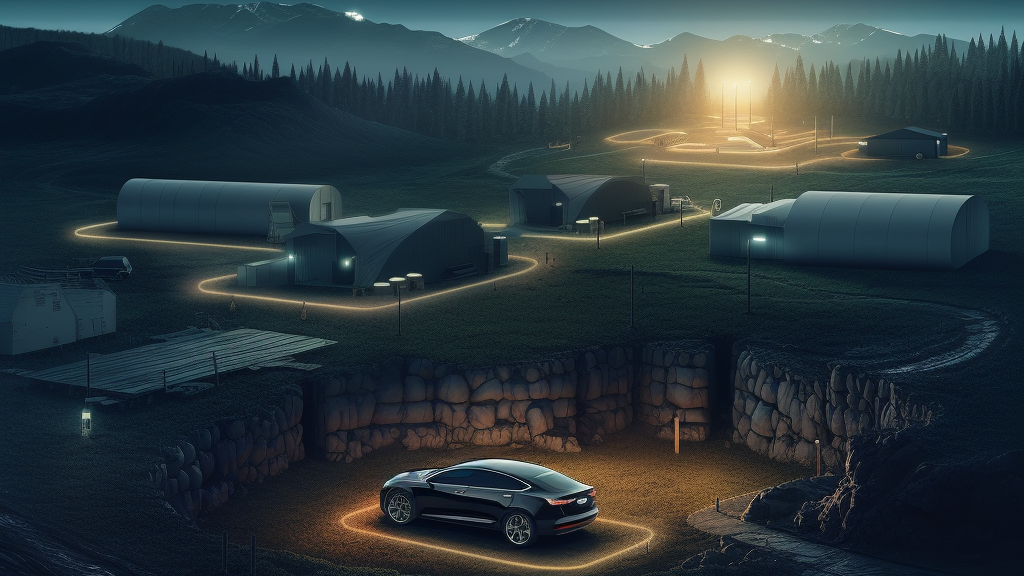 New Ideas!
Tesla Motors, through one of our top dealers, required a specialized stormwater filter berm to help them part ways with the metals in the sheet flow from their production areas. They wanted the option to link multiple berms together in a seamless chain, and if it was easier to spot at night – well, that would be a cherry on top!
Enter our biochar filter berms! They are not just regular stormwater berms, they are metal-removing powerhouses that can redirect flow when needed. They come in 4″ & 6″ diameter tubes, and in any length you need. The outer layer? Polyethylene, better known as shark skin – and yes, it's tough as nails!
Need to move these berms around?
Our berms come with nylon strap handles on both ends. Connect them together with zip ties in whatever configuration suits you. The tubing berms can connect end-for-end or in a handshake, sealing the ends together.
Want them to shine in the dark? We can sew US DOT certified reflective labels around them for extra visibility.
And the icing on the cake – you can wash and reuse these berms repeatedly!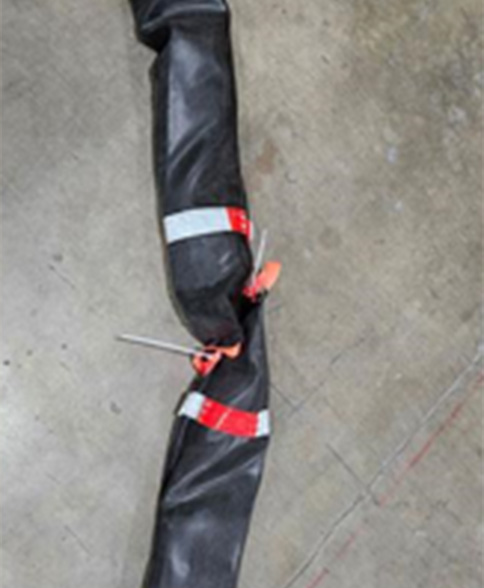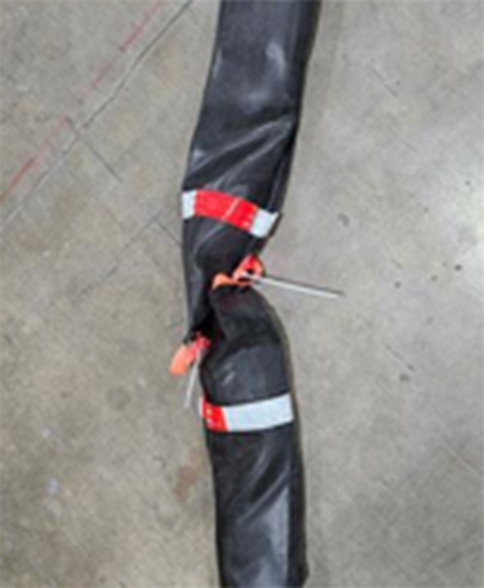 Dockworker Tough
A port facility had a new contract to load up a ton of scrap steel onto bulk container ships. They needed something more robust than straw waddles to filter out metal fines & dust from their operations while the ship is moored and tied down to their docks. Their straw waddles were breaking apart, spilling straw onto the water and loading areas.
That's where our shark skin berms come in. They're strong enough to withstand heavy-duty operations and will not break open. Even if the biochar breaks down, it becomes a total organic carbon – a plus for the fish! The port used zip ties to connect the berms end-to-end in their tight space.
When Waves of Contaminates Come In
Another client, a tire recycling facility, needed help managing excess tire mulch & dust from their outdoor production areas. They needed a sturdy line of defense for the MetalCompliant filter inserts in their catch basins.
Enter our biochar filter berms with heavy sand bases, arranged in a dual-ring formation around the basins. Even when the outer ring was buried under the solids, the inner ring held the fort, keeping the catch basin area clean. Thanks to the sand base, these hefty berms weren't going anywhere!
So, whether you're a vehicle manufacturing giant, a busy port, or a recycling plant, we have your back. It has never been easier to keep your operations efficient and environmentally friendly with Gullywasher's biochar filter berms!